I have been asked this question a million times. Not once have I ever gotten bored explaining it to others. In fact, I still get very excited telling others what it is and what makes Brazilian Zouk so awesome!
Brazilian Zouk is a dance from Brazil which is still very young compared to many other social dances. It was popularised in 1980 and has grown popular all over the world, mainly in the UK, Europe, Asia, and Australia.
Brazilian Zouk, or "Zouk" as it is more commonly known by some dancers, is a fun, dynamic and modern partner dance originating from Brazil.

Brazilian Zouk is most recognised for its mesmerising fluidity & flowing head movements and can be danced to a variety of musical genres including classical, pop, dubstep, hip hop, R&B and lyrical.

Since its origination in the 1990s, Brazilian Zouk's popularity has spread across the globe like wildfire! And now, we're here to help that spark in you grow into a burning passion. 🙂
The second most puzzled look on their face would be when I use the term "Social dance" to explain. Okay, social dancing is a dance with a partner where all the moves aren't choreographed or in predetermined sequences. Usually, everyone understands when I say "Salsa". That's when they go "oOoohh" so it's like Salsa! Now I would end up having to explain the difference!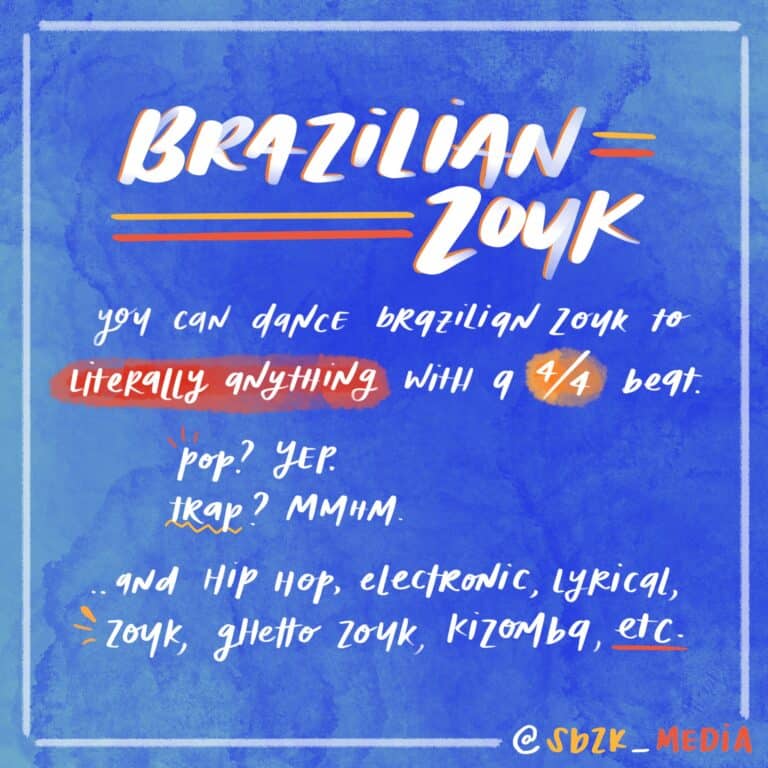 Why Do I Love Brazilian Zouk?
It took me over a year of dancing before discovering Brazilian Zouk. Having tried numerous social dances such as Salsa, Tango, Kizomba, all of which I did enjoy. When I first saw Jonny and Julia dance to "Diamonds" by Kaysha. Just watching them, you can feel the connection flowing through each movement. I knew then that I found 'THE' dance, or was it 'THE' dance that found me?
Being someone who listens to RnB and Hip hop a lot but also enjoy dancing to something romantically slow. Yes, I do like a little Romance! Who doesn't right? Brazilian Zouk doesn't have that limitation. I also like to improvise a lot, not following rules had always been something I'm naturally good at! Zouk was made for me 🙂
Brazilian Zouk is a very, very, very sensual and fluid dance. You create that closeness, the feeling, and connection with your dance partner. Sometimes sensually slow, respecting the women in front of you and other times just have crazy fun, laughing, and after making tons of mistakes but keep ongoing. "Zoukasm", that feeling of euphoria keeps me addicted.
Tell Me More!
Brazilian Zouk has many variations and others calling it their own style of Brazilian Zouk. Zouk Lambada, LambaZouk, Brazilian Zouk, Neo Zouk, Rio Zouk, Zouk Love, MZouk, SoulZouk, RnB Zouk, VeraZouk and the list goes on!
For me personally, I like to steal a few moves from different variations to how I feel right when dancing. There really no right or wrong styles to dance to the music played. As long as you dance with the right feel and emotions to the music, you don't necessarily have to dance to every beat!
The confusing thing…
Although many dancers call it Brazilian Zouk, when referred just as "Zouk", it is often confused with the popular music genre "Zouk" from the French Caribbean who also has a dance called "Zouk dance" too. Yes very confusing! Brazilian Zouk history actually ties back to the music "Zouk" because this is how the dance Brazilian Zouk came about. The creators Adilio and Renata started developing the dance around the music "Zouk" taking Zouklambada and Lambada movements and re-engineered it to work with the slower music "Zouk".
Example of Zouk
UPDATE: Here's one of my modern favorite by Anderson & Brenda 2019… This dance speaks for itself 😉
Here is a video of one of my favorite teachers who inspired me last year in 2013 to continue dancing Brazilian Zouk. I've met them both and they were wonderful people. Xandy and Evelyn, their style of Brazilian Zouk have contemporary influence and it just flows so well! Beautiful…
Another of my recent favorite Teachers and their demo in Berlin! Enjoy 🙂
Freddy & Andressa dancing to "Before You Walk Out Of My Life" by Monica.
Want to start learning Brazilian Zouk? Find your nearest dance school and classes using our FREE global search tool on our homepage!