With over 100+ Artists (Dance Teachers, DJ's & Performers) and 1000+ Attendees, DutchZouk! really was the biggest Zouk Congress in Europe! We had Zoukers stretching as far as Australia and Canada.
It was an exhausting 7 days of dancing with most of the action taken place during the weekend. Having attended 5 out of the 7 days, I wished I had stayed from the very first day until the very end!
Hosted at Studio 76 in Etten-Leur, the venue had 2 main party rooms and 3 dance studios; all of these rooms were quickly filled by the weekends. Pre-party and after-parties were held at a more mellow bar called Kerkplein in Breda.
The weekend classes ran from 11am until 10pm with lunch and dinner breaks. Then the parties would immediately start and finish at 5am in the morning. We even had an extra hour on Saturday because of the Time Zone Daylight Saving, rewinding one hour back! Whoop whoop!
Don't know what is Brazilian Zouk? You should read my other short article before going any further! What is Brazilian Zouk?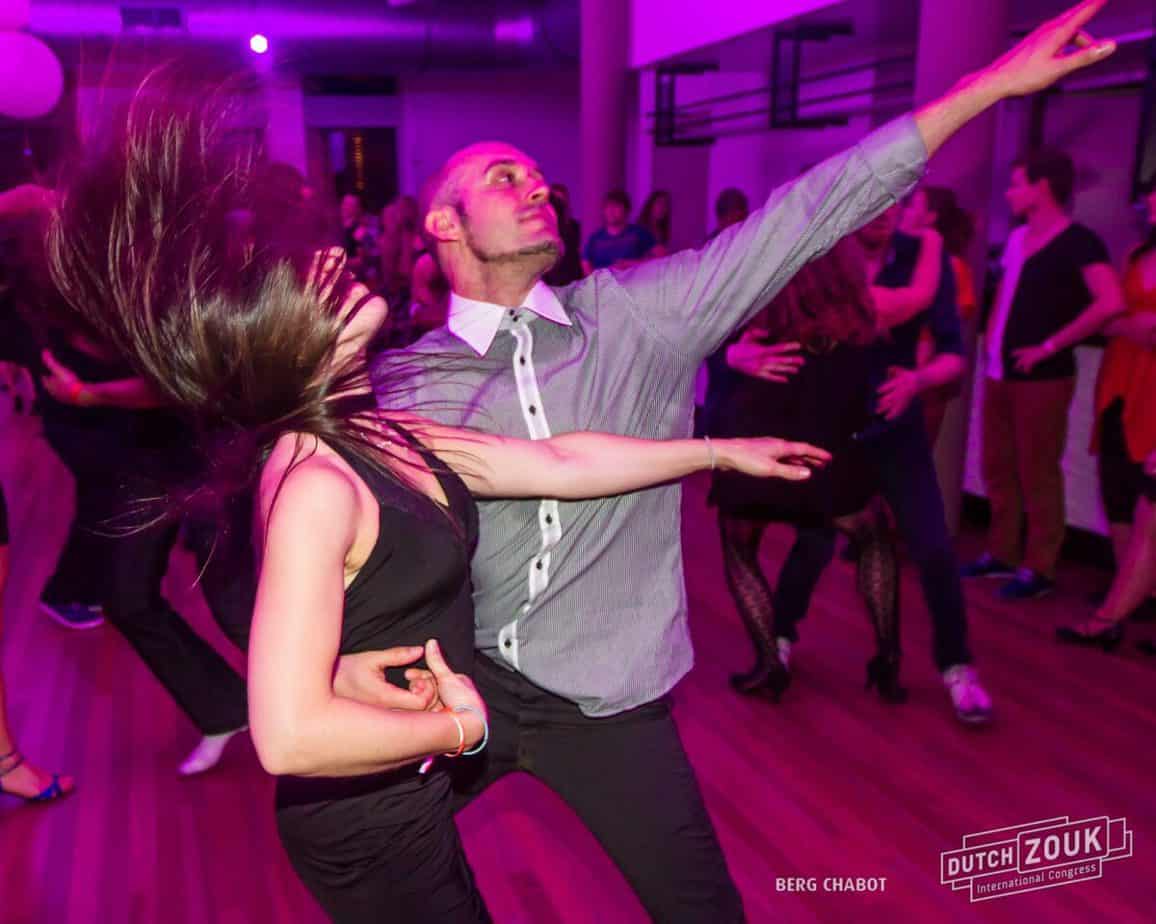 This time round I made tremendous effort to wake up as early as possible for classes. As the congress progressed, I had some classes that were interesting and useful, many average classes that I would end up forgetting, and a disastrous class that would never forget for the wrong reasons.
By the end of the congresses, with an extra 50+ hours of continuous dancing experience, I really leveled up to a confident and relaxed dancer. My best nights were definitely Friday and Monday.
Friday, the music was absolutely smashing! The playlist had lots of RnB and some Reggaeton tunes that really got me pumping. Well played DJ's!
Monday was a night that I would never ever forget. By then, my Brazilian Zouk skills had skyrocketed. The dancers were mainly the local Dutch ladies and I got to admit, their levels were amazing. I have much respect for them because every one of my dances felt connected and they all followed so well. One particular dance that made my night… no… the entire Congress, was with Natalia. You really must read further down the blog as to why this dance was so special! Incredible…
One particular point I would like to *highlight* about this congress was how the Teachers really got stuck into dancing and mingling with the students during the parties. There was no 'Teacher's Corner' and you can spot them scattered everywhere. This is how it should always be on the dance floor… There are no Teachers or Students… We're all just Dancers with the same passion for Brazlian Zouk!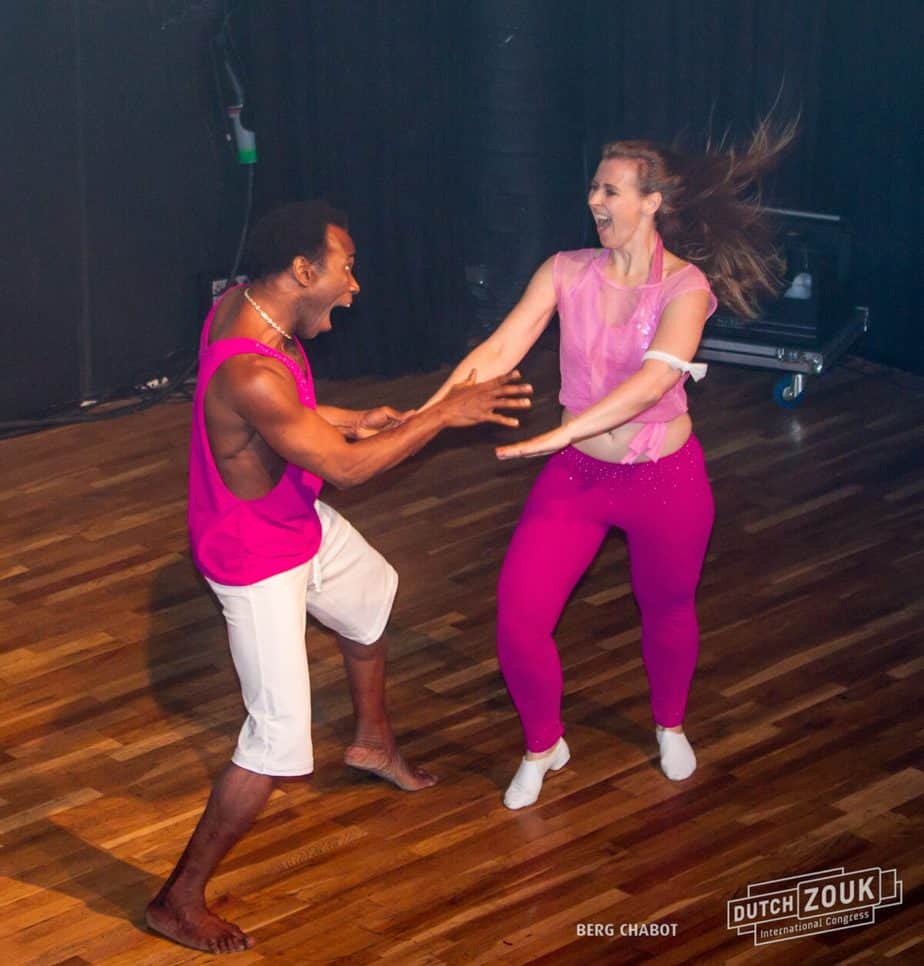 Adam & Claudia, DutchZouk Team, Teachers, DJ's and Photographers did such a great job of making this memorable. It was no easy task planning, marketing, and executing such a big event. This was by far the best congress of 2014 for me that I am already looking forward to next year!
It's been such an honour to have met and made so many new friends. Mentioning a few; Flora aka Floortje, you still owe me a proper dance and stop hiding away with those chocolates! Irena, we had so many great dances that I can't wait to see you again! Claudia, we have so much to talk about life and philosophy, it's been a pleasure! Sharon & Deborah for allowing me to experiment with some crazy moves on the dance floor. Carlos, you are a lifesaver, and thank you for turning back to check on us!
The one thing that I love the most about Brazilian Zouk is the community. Brazilian Zouk really attracts only the best people in the world. Kind, loving, honest, friendly, and fun!
Pros & Cons of this Congress
Pros
7 days of dancing!
Massive venue with 5 rooms of classes running simultaneously, 2 big rooms were used for Parties during the weekends.
Many Teachers and Classes to choose from. Total of 46 Technique classes vs 31 Combination classes (Friday-Sunday)!
Never run out of different Ladies/Leads to dance with!
Many DJ's with a great good selection of songs and mixes!
The dance floors were in excellent condition!
Very organised and had a professional touch. I really liked the small booklet containing all the maps, classes, parties program plus other useful information!
Photography booth by Reception area!
Only a few shows at the Parties (apart from Saturday!)
Organised Lunch and Dinner at the Venue!
Cons
No Direct Flight.
Lack of Eatery within 20 minutes walk.
Distance from Hotels to Venue requiring shuttle buses with only one Hotel close by.
No general stores nearby. Nearest was a Shell Petrol Station (10-15 minutes walk) and Supermarket (20-25 minutes walk)
Expensive for water at the parties.
Website: http://dutchzouk.nl
Facebook: https://www.facebook.com/dutchzoukcongress
My Experience of this Congress:
1. Travel
Originally, I thought the main congress would be at Breda, but it was at Etten-Leur. Turned Etten-Leur was a small town on the outskirts of Breda. It wasn't a huge issue, just added a little extra journey time!
The whole journey from home (Birmingham) to the hotel (Trivium, Etten-Leur) took approximately 6 hours.
Flight from Birmingham International Airport to Amsterdam Schipol took 45 minutes.
The Fast Train from Schipol to Breda for another hour.
Then Breda to Etten-Leur another 10-15 minutes train ride.
I then took a taxi from Etten-Leur to Trivium hotel another 5-10 minutes ride.
Half the time I was sitting around waiting for my next transportation. This is the reason why I've always prefer direct flights, when possible!
Not having been to Amsterdam in years and trying to find a helpdesk person to ask which train to catch was nowhere to be seen. I ended up browsing the ticket machines and purchasing a ticket to Breda but luckily remembered someone mentions about catching the fast train otherwise I wouldn't have known!
Was it just me or were there no labels on First Class carriages? I jumped onto the closest carriage and sat down at what didn't look like First Class! The seats were quite comfortable but the design and color scheme were so retro. Got kicked off First Class and had to sit in between carriages, not that I minded, only 10 minutes left before reaching the destination.
To catch the fast train, you need to purchase a normal ticket to Breda €18.4 then a supplement €2.30.
2. Accommodation
Most of the hotels and hostels were several miles away. You would have to take the shuttle bus otherwise it was a lengthy walk. Fortunately there was only one hotel that was less than 3 minutes walk from the venue! I was lucky to be able to get a room at Trivium as they were overbooked and turning guests away!
I left the do-not-disturb on my door. In the morning they left me a goody bag with clean towels, toiletries, and tea! I needed a top-up, thanks!
The rooms at Trivium were spacious and the service was exceptional. It was so convenient to the congress. I would go to class in my PJ's and then return back to freshen up and change into fresh clothes. Many friends had stayed at other accommodations and had to purchase an additional shuttle bus ride that ran at on a time table.
The cost-saving (if any) from other accommodations wasn't significant enough and calculating the waiting time for scheduled buses can't be justified. I certainly would use Trivium Hotel again if it's at the same venue next year!
3. Food
Finding decent food was probably one of the most difficult tasks for me. It was like living in the middle of the countryside! The nearest Supermarket was 20-minute walk and the nearest restaurants were limited to Trivium hotel, Macdonalds, or the dining organised at Studio 76.
Dirk Supermarket – The only supermarket I would say was within walkable distance. Here I purchased all my necessities; water, wine, and snacks.
Cafetaria Schoonhout – We found a cafe right next to the Dirk Supermarket. It wasn't great, but at least it was warmish…
Trivium Hotel Restaurant – Maybe I should have tried the food here!
McDonalds – Opposite Studio 76. Eat at your own demise! Being a semi-healthy eater, I wouldn't touch this unless I was really really desperate, like starving level. Do you even know what or how their burgers are made!?
Studio 76 – I decided to try the lunch and dinner organised at the congress on a Sunday. This went down very well with the lack of decent restaurants nearby. Next time I would probably just opt for the Congress studio lunch and dinner. It was a well-balanced meal with lots of vegetables that I like, plenty to recharge my batteries from all the Zouking.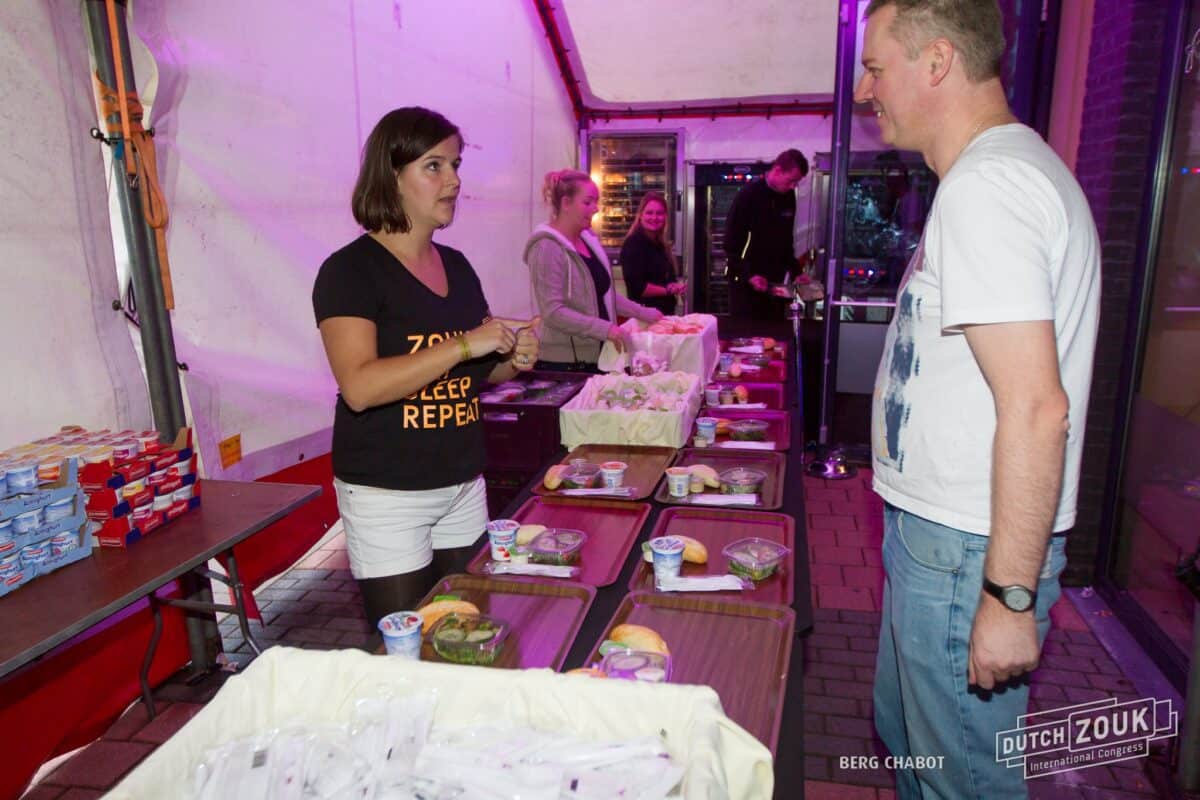 I was told that there were takeaways that could deliver to the hotels or venue using just-eat.nl!
4. The Venue – Studio76
Registering and getting my wrist band, simple and easy at the reception area of the venue. I do wish they used the plastic wristbands as they did in ZoukTime!-BRNO, way more comfortable, and after 5 days of wear, it gets really tattered up!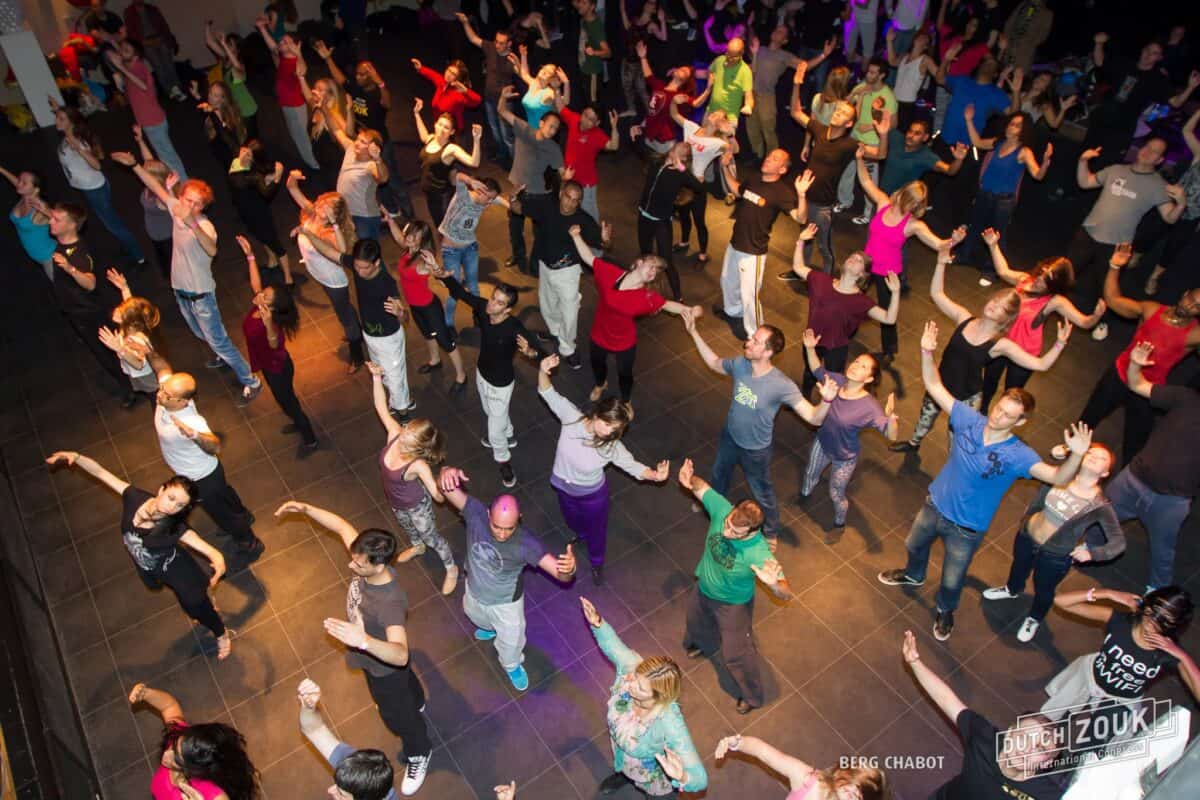 With 2 main dance floors and 3 other smaller studios. A total of 5 rooms with simultaneous classes. The main room with the stage was medium in size and had a darker light setting. I really loved the dance floor upstairs and spent most of my time there. The light settings were brightly lit with coloured strobes creating a more cheerful mood. Upstairs were about 1.5 times more spacious than the main stage room. Both dance floors were in excellent condition.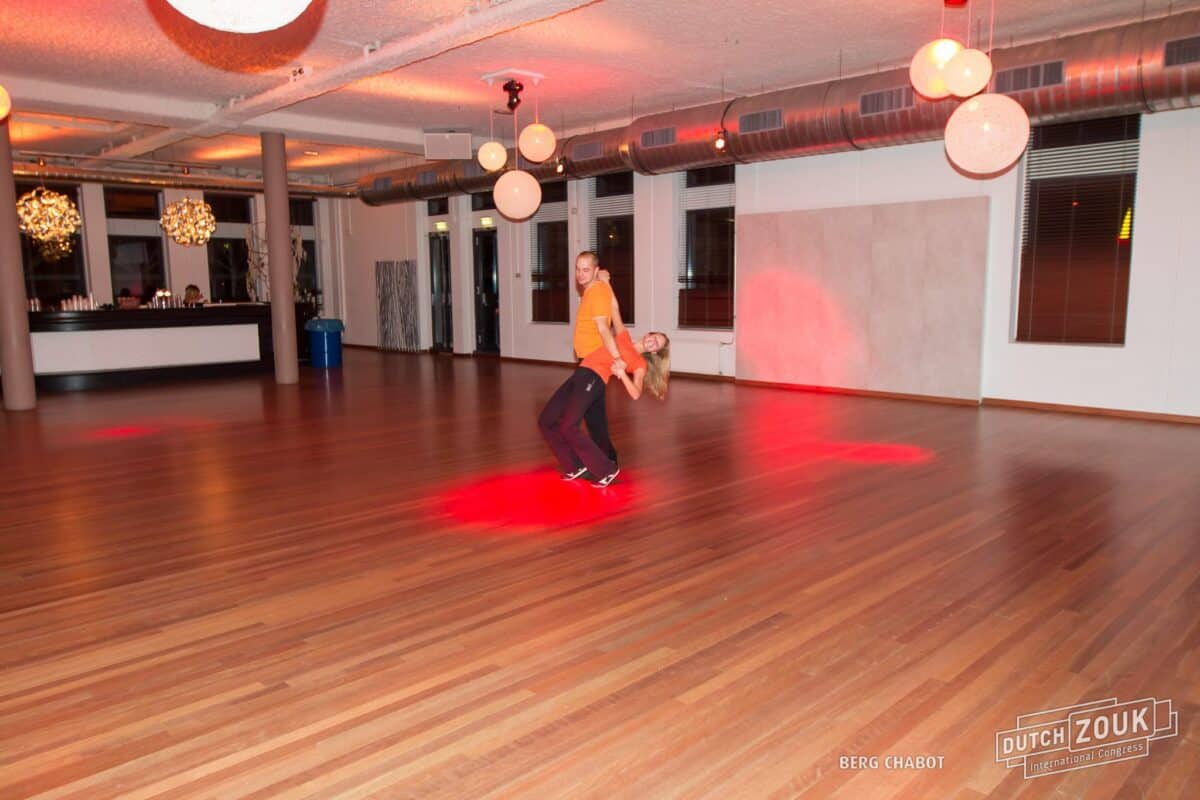 5. Classes
With one particular goal in mind for this Congress, my aim was to focus back to basics and applying techniques. I am at that stage where learning more combinations would not make me a better dancer.
Why I Would Always Choose Techniques Over Combination Classes
Techniques are more conceptual that requires understanding. I tend to remember these type of classes because it engages the creative part of my mind. By visualising the different ways it can be applied, even with little practice, I can somewhat pull it off during a dance.
Spoilt For Choice
Every class I attended was packed! There were so many teachers, techniques, and combination classes, at times I just couldn't make up my mind. It ended with several last-minute changes of plans!
I did find myself misled by the naming of some technique classes such as "Swing the Hair", "Owning the Music", "Being soft and Gentle". My reason for saying this was because the materials taught didn't quite fit in with the topic title. Instead it was more like a combination class with very little technique explanation and more about hammering out a sequence. Completely opposite of what I intended to learn.
"Connection with Modern Dance" should have been labeled as a Technique class rather than a Combination! I really regretted not going to this class because I thought it was a Combination and the entire day everyone was raving about how good the class was! "Oh Man!"
The downside of having lots of teachers and classes simultaneously was choices became sacrifices. There were many classes I wanted to attend that ran at the same time. It can be regretful when a class chose didn't quite meet expectations, then you wished you had attended the other one!
Teachers And Classes That Helped Me Progress Toward My Goals.
Freddy and Andressa "Musicality" – The clearest and most well-explained class I've attended at this Congress. I can see why Ying rated them highly as Teachers. Thanks to them, I'm starting to experiment with leading moves at different speeds depending on accent changes within a song.
A useful concept learned; In slow songs when it gets slow, you do faster movements. Fast songs when it speeds up, slow down the movements! Obviously you dance in accents, not at the same pace which can get very boring. I've tested this technique out and it works miracles on the dance floor!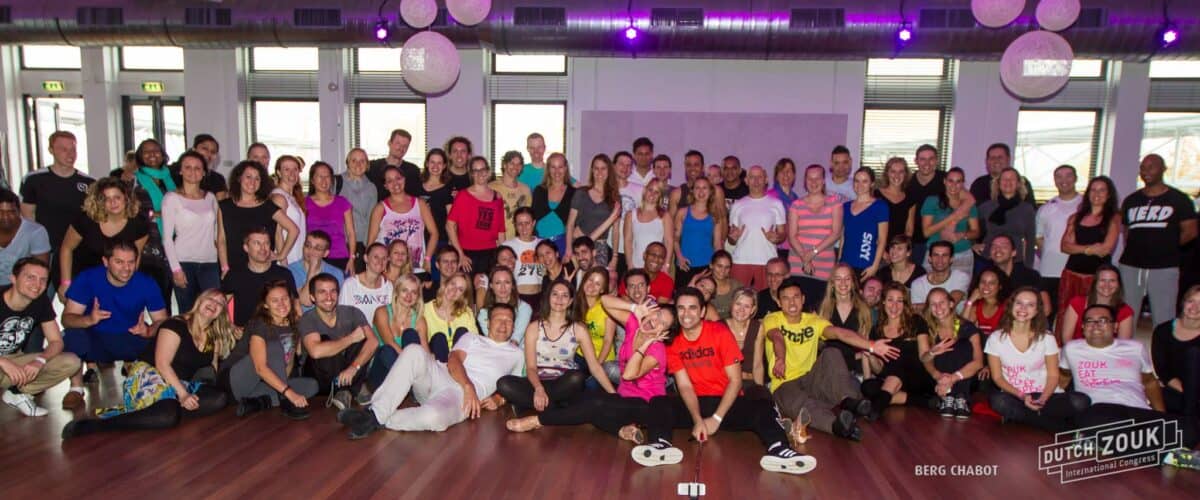 Dadinho and Kelly "Footwork" – Kazuyo recommended that I check out one of their classes. This guy's footwork… Completely on another league of his own. It was mind-blowing when you see how 'sick' those street dance footwork works with Zouk.
Kamacho and Joanna "Circular Moves" – I've always like Kamacho's circular movement techniques. I find them particularly useful on crowded dance floors.
Pasty "Connection with Modern Dance" – I had to add this even though I didn't attend the class. So many friends were raving how good it class was. Stop making me feel bad people! Listening to the other students' explanation of 'breathing synchronisation' and after some experimentations applying this technique on the dance floor, I was surprised how well it worked! You can feel the pauses through breathing in and when a fast spring action movement is going to happen when a deep breath about to be released.
Every teacher has their own unique flair that makes them different yet great. Try out as many teachers as possible and find the ones that will inspire and lead you to discovering your own unique dance style. Just remember, a good dance Teacher will be ones that make you feel excited and want to dance!
Omg!
Unfortunately there were a few classes that didn't do anything for me, as I have forgotten what was taught already! I have a terrible memory when it comes to combination classes, my brain just never engages these type of classes very well.
There was one class that I will never forget, not because it was great, but because of how badly it was managed.
There was a shortage of followers because of a ladies' styling next door. There were no directions from the teacher on how the class was going to run. I was left standing in between the couple for a good 10 minutes. After that I gave up and sat down, 5 minutes later he remembers to rotate. By then, I've already missed out the entire quarter of whatever being taught, and continuing would be pointless.
I have never been made to *feel* this way ever in all my congresses and classes. This was my first time trying and will be my last time attending any of his classes. It completely drained me of all enthusiasm and a session that could have been produced elsewhere.
Finish With A Bang
Surprisingly, Monday's Classes were awesome! It didn't go as planned on paper, but instead we had different Teachers every 20 minutes focusing on different techniques. 
Arkkanjo with a head roll ending with a gentle hand cross wrap around the ladies' neck that allows us to control back and forward head movements while ladies stand upright.
Leo & Becky did an awesome body isolation technique at a push of the button then leading on the way back up into a reverse body roll.
Kamacho & Joanna did an awesome lady's leg to hip then to the chest leading technique.
Adilio demonstrated the latest upcoming trend of a lady back against the front of guy movements.
These were very useful since it got my mind engaged therefore I will never forget what was being taught. This fast track session was the icing on the cake for me. It helped solidify all the techniques I've learned so far within this congress.
Master Classes
This was the first congress I've ever been to that had 'Master Classes'! I could understand the reason why they would introduce such classes.
Most 'Advance Classes' were taught at levels lower than they should be. This was due to the fact that too many attendees would not be able to cope if they truly taught advanced materials. Even if there were a universal way or method of efficiently measuring the level of each student, Teachers wouldn't reject students for this reason. This problem had been around for years with no simple solution around it yet.
I suspect their way forward was introducing 'Master Classes' where they would strictly teach high-level materials. The sound of it can be frightening enough to put off most students but the most confident and competent dancers.
I wouldn't participate in any of these as it was 'back to basics' for me. However, having spoken to fellow Zoukers who attended these, many had mixed feelings. Some felt that it wasn't quite a Master Class level while others found it challenging.
How I Choose My Teachers
One way to learn any sort of skills quickly and efficiently is to choose the right Teachers. Teachers with poor teaching will impact your learning and produce negative effects instead.
So how do you choose the right Teachers? My simple way in two easy steps.
Firstly you'll have to identify which Teacher you think teaches well. The only real way to do that is to try them out for yourself. You can ask friends, but what works for them may not work for you.
Secondly, Wait a week, month, a year later. Do you clearly remember what they taught you without a reminder? 
… That's it! You still need practice so when you are dancing you don't need to recall the memory on how to do it.
Okay, there may be a little more than that… A few other things you may want to look out for and examples of what good Teachers do.
Being so packed in all the classes, sometimes the Teachers forget that the students further out would have their view obscured by the front row. Dadinho and Kelly was the only teacher that constantly kept this in mind and would kindly ask the students at the front row to sit down and demonstrate again for the people at the back rows. The thoughts and considerations really made me respect them as Teachers.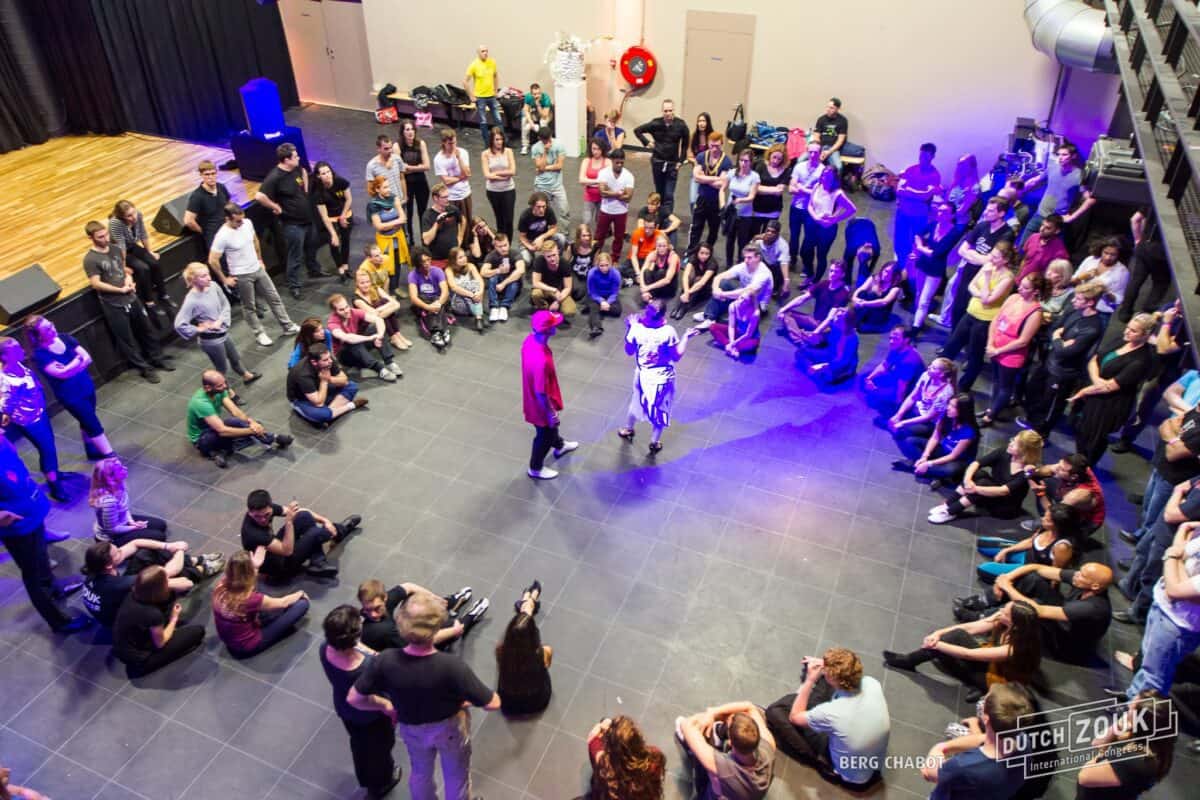 Freddy and Andressa, their English were very good, so explaining in a way we understood was easier for them. However, being a clear English speaking Teacher wasn't the reason that made them good Teachers. What I felt made them shine was their explanation had structure. They would demonstrate what to do, the common mistakes, and what not to do. Freddy would explain the men leading techniques, and Andressa would explain the ladies' following techniques. They worked well as a team providing as much insight as possible without over-complicating things.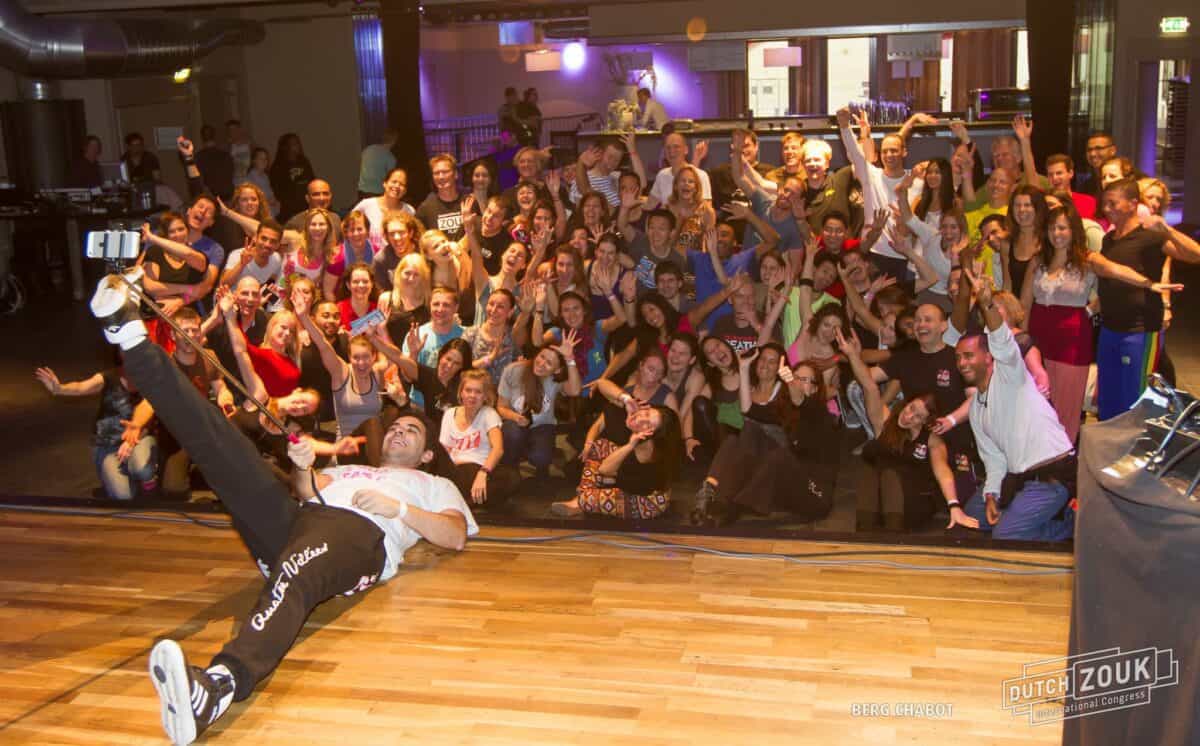 Having been to quite a few congresses now, there still seems to be a common problem with class management. There doesn't seem to be any set of guidelines or basic teaching methods across the board. I have highlighted some of these issues on a separate blog. How many of these have you encountered?
6 Common Mistakes Dance Teachers Make At Congresses/Festivals
6. Parties
It's very amusing how security was checking everyone whether they've brought water or drinks into the venue. usually at clubs and parties they would be checking for drugs or dangerous objects!
When I initially went to the bar to be served and tried to pay in Euros, it turned out they only accept tokens that can be purchased by the cloakroom.
Thursday
As I entered the venue, seeing so many dancers, the thumping of the bass line, and the sound of Brazilian Zouk music. I want to dance! Still feeling nervous about not having danced since ZoukTime!-BRNO, I had to find that 'unlucky' lady who would have the worse dance ever with me! My first dance had always been terrible and hoping once I got that out the way, the rest of the night would get better. Unfortunately that wasn't the case… I danced like %$£% throughout! There were so many accidents and near misses that I wanted to pack up and go home! It turned out I wasn't the only one who had a bad night though…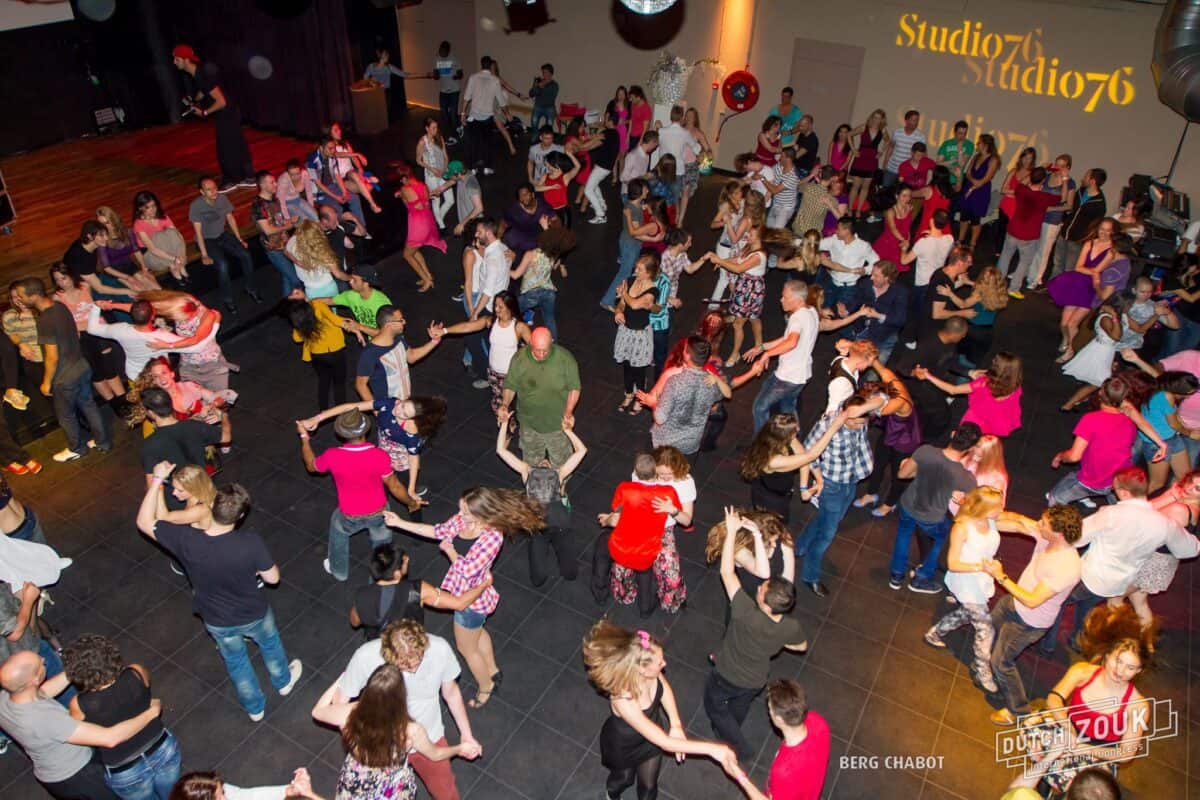 Friday
This turned out to be one of my best nights! The classes during the day really helped kickstart my recovery from the bad start on Thursday evening. I like how they kept performances to a minimum, only 4 shows which were great! What I enjoyed most was a good amount of RnB music and it was my first time hearing some cool reggae tunes. It really got me into the vibe of dancing a little crazy! I only stayed until 3:30am and really regretted not staying until the very end because I planned to get some sleep for the morning class.
Another mesmerising performance by Xandy & Evenlyn – Tribute to Bach
My Longest night so far, danced until I dropped literally. My only gripe was the shows were way too long! It felt like it dragged for over an hour! It took a while for me to get back into the dancing mood again. Not many highlights for me on this night, but others said it was their best night.
Sunday
By today, I've become pickier with my dances and songs as my feet were getting really sore. The final hour I had to sit down for an entire hour until the final song I got to dance with Dominica. I felt so ashamed and embarrassed for dancing so badly like I've had the energy sucked right out of me. "boo…."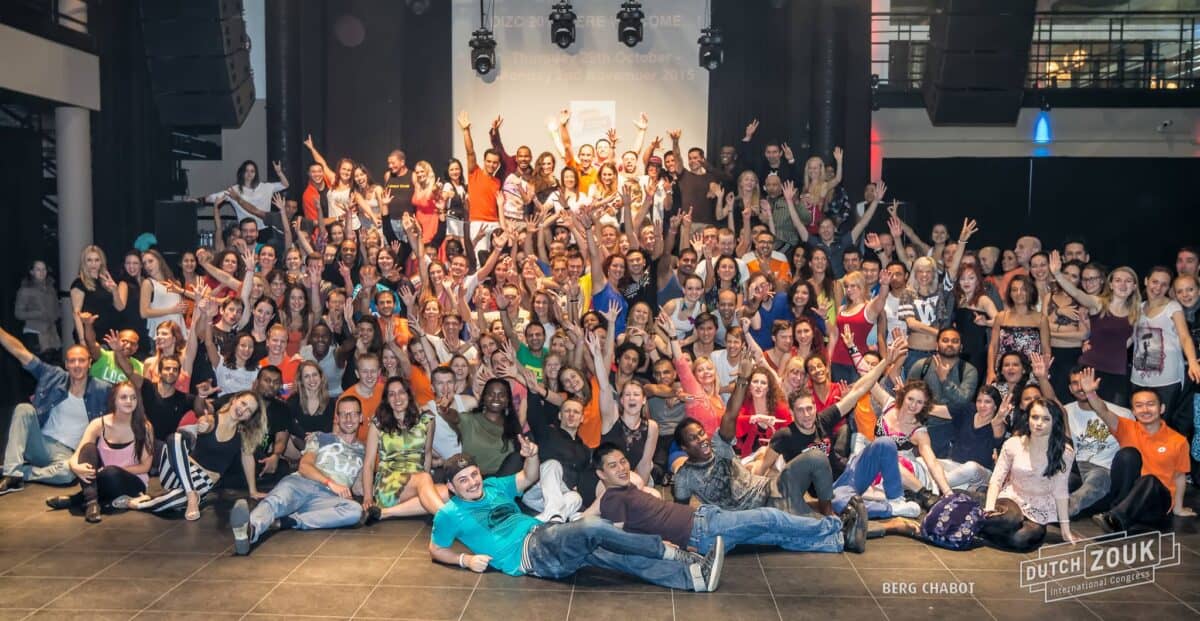 Monday
The after-party… Not expecting much of this night but it turned out to be my best and most memorable evening out of the entire congress! By now, there were less than a hundred dancers remaining. I guessed most of were locals (Holland) from what I've gathered. It was smaller yet very cozy.
I have never ever had so many amazing dances all in one evening. Much respect for the Dutch dancers, it was well worth staying that one extra night!
As the final hours approached, I danced with this one girl for several songs and ended up being so overwhelmed with 'god knows what' that I nearly lost my ability to speak! Ending with only a brief conversation, I was so flustered that I had to excuse myself from her.
If I had to describe my words how I felt or what I felt, I probably could not accurately tell you. Only another dancer who had experienced this euphoria would know what I am trying to describe!
It was like two souls intertwined during the dance. Our breathing synced, musicality becomes second nature and my mind entered into a world where it's just the two of us dancing. Every movement was followed to such perfection it's like she was a part of my body. The sensations felt during the dance were warm, passionate, sensual, love joy and all the good feelings one could ever feel, all within that moment.
Is this what others been referring to as "Zoning out"?
This was the first time in my entire life to *feel* this way. I may have fallen in love with Zouk all over again, or with her!
Luckily, I still had a few brain cells functioning and were able to remember her telling me she was a performer on Friday Night and found out who she was!
That also got me thinking about whether she was able to follow so well and connected because of her profession as a professional dancer. However, I thought not, since having danced with many other professional dancers and other talented amateurs. Though they all followed very well, the feeling and connection certainly were not the same.
I will never ever forget this dance or her. Natalia, the first girl who got me completely "Zoning Out". I wonder what it is like if we dance again…?
"Dancing better than sex? The greatest feeling in the world where the climax lasts much longer than an orgasm."
7. Cost Breakdown
To give you an idea of how much it would cost if you were to attend the next DutchZouk, see below where I have broken down my expenditures where possible.
Taxi (Home > B'ham Airport) = £21 (€26.40)
Flight (B'ham > Amsterdam Schipol) = £115 (€144.57)
Train Cost (Schipol > Breda > Etten-Leur and Return) =  £35 (€44)
Taxi (Around Breda) =   £25.38 (€31.50)
Travel Insurance = £5 (€6.29)
Accommodation = £306.20 (€380)
Foodpass =  £18.13 (€22.50)
Spending Money £232.50 (€292.29)
DutchZouk Full pass = £105.35 (€132.44)
Total = £863.56 (€1,085.62)
I even bought some chocolates at the airport and still had €30 leftover!
Website: http://dutchzouk.nl
Facebook: https://www.facebook.com/dutchzoukcongress
Have you just started learning Zouk? Then you should check out my other blog, 7 Dance Tips from Zero to Hero.
Wonder what I got up to at the previous Zouk Congress? Go to ZoukTime! 2014 5th Brazilian Dance Congress.
8. Added Bonus – Songs Highlight
As an added bonus, here are some songs I heard during the Congress.
Wiggle Wiggle – Jason Derulo Ft. Snoop Dogg – This song was so popular they played it every night!
Cut Your Teeth – Kygo Remix – Thanks Irena for sending me this song!
Let Her Go – DJ Nymf – Omg I fell in love with this song! (Can't find on youtube) so I've put the above cover instead which is also nice to dance Brazilian Zouk to, just without the beat 🙂
I See Fire – Ed Sheeran (Kygo Remix) – I also heard this played quite a few times.
Faz Sentir – Naldo Benny – Tis a nice song to Zouk to!
40 days 40 nights – Sammie – I think this was one of the songs when dancing with Natalia!
Marvins Room – Drake (Vocal Cover) – DJ Kakah – This could be the other song when dancing with Natalia… When I hear these two songs I get that nostalgic feeling.